My name is Alexandre Dulaunoy. I'm trying to promote free information while having fun. Some links to my information space : Blog, pinboard or homepage.
The content of the community wiki is very impressive, it looks like a condensed world of ideas. I hope to share some more ideas or maybe bring some to life.
Some random ideas (implemented / beta stage)
some Machine Tag I used and loved - ongoing experiments including link fingerprint or the license namespace.
OddmuseGit - I still love Oddmuse even if I have looked at git-based wiki. While not being satisfied with the current git-based wiki, I wrote some quick-and-dirty scripts to import/export pages from/to Oddmuse from/to local git repository. That works for me but maybe need more work to make it more user friendly. For the fun, I imported communitywiki in git : http://git.quuxlabs.com/?p=communitywiki/.git;a=summary - the oddmuse2git update the content everyday.
Wiki Creativity Index - A first implementation of an old idea : " Moving the stock market indices into something useful ". This experimental Wiki Creativity Index is for monitoring the activity in the wiki-technology/use world.
Here is a sparkline version of the Wiki Creativity Index :

Old overloaded stocks-like graph still available.
More experiments like Forban and some others on my gitorious page. More information about Forban - a simple link-local opportunistic p2p free software.
Some random ideas (implemented / early alpha stage)
Following the past discussion of a portable wiki device, I tried to come with a basic auto discovery/merging wiki software. If you are curious, here is the commit diff : wiki discovery/auto-merging first experiment where there is a small explanation. I used the excellent wikiri as a test backend. If you have idea to improve it, let me know.
To better explain my idea and early prototype around the auto discovery/emerging, two small drawings :
The first is about the initial concept, someone is coming into a jamming/contributing/prototyping session. The user start his wiki device/software and see already two people jamming in the same wiki pool called "today's wiki". This is possible by an announce message sent regularly about the wiki available by each active contributor (in my prototype, wiki name, source and hmac signature). The hmac signature can be verified if the user knows a private shared key in other word a common password among the participant. But he is free to not check the signature.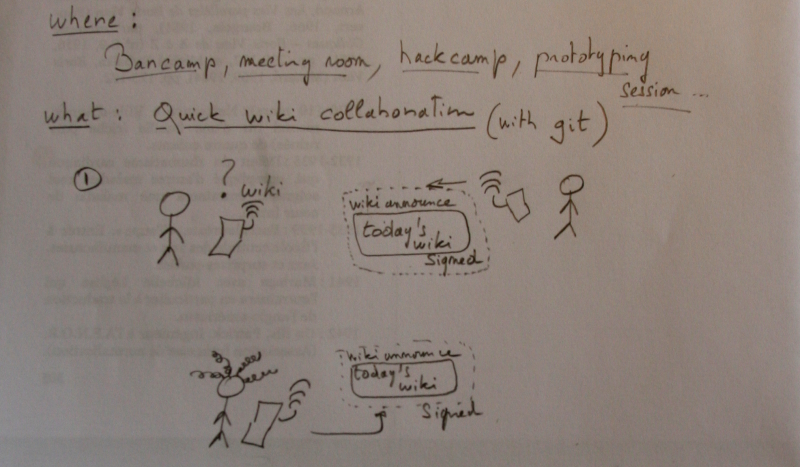 If the user wants to start to collaborate on the wiki, there are two options. Either the user is willing to contribute locally without sharing his own update (case 2 in the diagram), he is fetching the current wiki using git. Start to work locally… Or after a small period, he/she wants (case 3 in the diagram) to share his contribution. He/she just starts to announce the wiki sharing the same wiki name. That's it.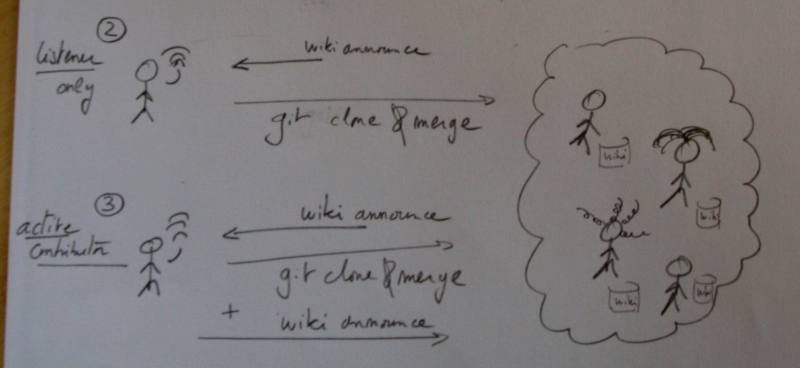 All wikis using the same wiki name are equal and always merging any update from the other wiki. The current prototype is somehow doing that but really need improvement regarding usability, merging (especially in conflict resolution… git is mainly designed for source code not wiki "content") and initial discovery. The current announce is using a broadcasted UDP message. So this is limited to directly connected network. But that can be enhanced using a global announce services… The idea is there but a lot of work remains.
Feedback first prototype (14th July 2008)
My current conclusion is the following : git is nice but the merging strategies are often too conservative for merging wiki contribution often lead to manual merge conflict resolution. I'm working in a way to do the "conflictual" merge before the real git merge will take place. I need to commit the prototype of this part. I saw this issue when a lot of users are highly contributing to a same page in short period of time (faster than merging/replication time). Ideas to solve this issue are welcome
Additional feedback from first prototype (17th July 2008)
A question : "That's nice you have a prototype but no one is already using… what do you do with already existing wiki?" I took the question as a challenge. This is a very good and valid question. All the current wiki are using different backend storage and time to be usable could make the idea/prototype useless… working on a script to import/export from/to existing wiki. we'll see.
Some random "dreaming" (to be designed or implemented) ideas
WikiStacking the benefit of stacking information in wikis. Appending/stacking information in wikis is very common (just like here with the comments and the top text part or the wikipedia Talk page)… maybe something to use more ?
Oddmuse wiki or Mediawiki using git as backend storage. That would help off-line wiki to be used and merged.

I recently discovered three new wiki engine using git as a back-end :

wikiri - I tested it successfully, using Python, very small engine but works as expected (able to read the backend using standard git tool). Extending it for being an off line wiki seems possible.
smug - seems more complex and relying on Danjo. to be tested.
Some other random ideas (more difficult to be implemented or used)
(real) hardware portable wiki for taking notes with an auto-merging functionality when you are very close to Internet or your computer. related: http://opencircuits.com/Projects#TwentyDollarWikiDevice

splitting the hardware and software from the portable wiki Thanks to David for the reference to the TwentyDollarWikiDevice that's giving some idea. Especially to split the two parts : software and hardware a little bit more. The software part : "automatic reconciliation" between the Internet wiki with fragments of the original wiki (ideas collected during a meeting or after a shower . The hardware part : IMHO seems difficult to have really a low cost/power/green device at the moment (beginning 2008, I checked the PIC32 solution but still quite expensive). If time left, I'll checked if we could do a prototype with Dandelion (the scm wiki engine of RadomirDopieralski) with a kind of reconciliation engine on top of git. Still in the difficult idea pool…

Regarding the recent "The Wiki Reader" (http://thewikireader.com/), we are not far away from a low-cost device for Wiki collaboration. The wiki reader software is free software http://github.com/wikireader . The hardware platform is running the Epson S1C33E07 low-power SoC?.
---
---